The next few blog posts further explore liver detoxification as it moves to phase 2, from Cytochrome P450's phase 1.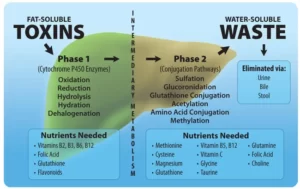 After liposoluble waste products have been converted into more water soluble intermediary metabolites, they enter in one of six phase 2 detox conjugation pathways, one of which is sulfation.
Key Sulfation Enzymes
The sulfation phase 2 liver detox is an important process in the human body that involves the removal of toxins and waste products from the body and is key in maintaining overall health and well-being. A handful of enzymes are key for this process to occur:
CBS (cystathionine beta-synthase) plays a crucial role in the production of hydrogen sulfide, a gas that is important for various physiological processes in the body, like the regulation of blood pressure, protection from oxidative stress, and improvement in insulin sensitivity
SUOX (sulfite oxidase) converts sulfite to sulfate, which is then excreted from the body through urine. However, sulfate is also an important molecule that plays a role in various physiological processes, including the synthesis of hormones and the detoxification of drugs and toxins
NOX (NADPH oxidase) helps to produce reactive oxygen species (ROS), highly reactive molecules that can cause damage to cells and tissues. In the context of sulfation though, NOX plays a role in sulfite toxicity by oxidizing sulfite to sulfite radicals and sulfite peroxyls
PAPS (phosphoadenosine phosphosulfate) is involved in the synthesis of sulfate from adenosine triphosphate (ATP), an important energy molecule in the body.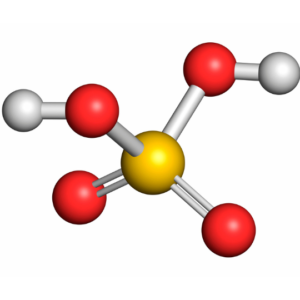 In addition to these enzymes, there are several enzyme classes that play a role in the actual sulfation detox process. Sulfotransferases (SULTs) are enzymes that transfer a sulfate group from a molecule of PAPS to another molecule. There are several different types of SULTs, including carbohydrate sulfotransferases, and heparan sulfate sulfotransferases:
Carbohydrate sulfotransferases (CHSTs) transfer a sulfate group to carbohydrates, such as sugars and starches. This process is important for the synthesis of various molecules, including hormones and other signaling molecules
Heparan sulfate sulfotransferases (HS#STs) transfer a sulfate group to heparan sulfate, a molecule that is important for the synthesis of proteoglycans and glycosaminoglycans, key for tissue repair and inflammation.
Finally, sulfate transporters are proteins that help to transport sulfate into and out of cells.
Sulfation Genetics
One SNP that can affect phase 2 sulfation detox is a variation in the SULT1A1 gene. This gene provides instructions for making the enzyme (no surprise) SULT1A1, which is involved in the transfer of a sulfate group from a molecule of PAPS primarily to catecholamine neurotransmitters, such as dopamine, but also various plant phenols, or drugs, like minoxidil.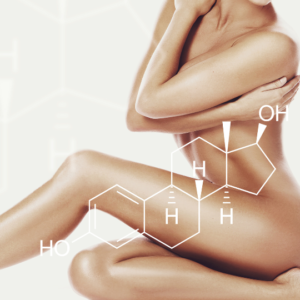 Another SNP relates to the SULT1E1 gene, which is involved in the transfer of a sulfate group from a molecule of PAPS to estrogens, primarily estradiol and estrone, thus inactivating them. It also sulfates a few other hormones, such as DHEA and pregnenolone, as well as other xenobiotic compounds.
On top of adopting a healthy diet, rich in antioxidants and exercising, special attention should be paid to reducing exposure to toxins, such as tobacco smoke, pollution, and chemical pesticides. Additionally, specific supplements may also be helpful in regulating phase 2 sulfation liver detox. For example, chondroitin sulfate, methylsulfonylmethane (MSM), taurine and garlic are believed to both be excellent dietary sources of required sulfur and induce some sulfotransferases, like SULT1E1.
Any nutritional strategy should be tailored to an individual's specific needs in conjunction with the guidance of a healthcare professional. In our genetic and metabolic optimization approach we do just that. Reach out!