Complexity of Love
Looking to spice up your sex life? There is a variety of things you can do in your everyday life that can help. Scientists still can't agree on exactly what makes up libido or how to measure it in men or women. While hormones play a role, it's not always clear how much of a difference they make. Besides, other factors — physical, social and psychological — also work together to create your libido, from medications to sleep habits. Meanwhile, you can consider uplifting your sex drive with our Li Bi Do liquid meal.
Our libido, aphrodisiac fix
Li Bi Do is our Cupid, aphrodisiac potion with carefully selected nutrients that support your sex drive in its optimal state. Rich in alpha-linoleic acid (ALA), via walnuts and walnut oil, Li Bi Do takes care of your heart and blood vessels while you're having a great time with your partner.
Research suggests that zinc, vitamin D and omega-3 fatty acids, rich in our stamina enhancing smoothie, may be important dietary components for testosterone. Moreover, the amount of beta-carotene in our pumpkin ingredient promotes a younger-looking skin and a sharp vision.
Believe it or not, apples may have a positive effect on female sex drive. One study found that women who consumed an apple a day reported a better quality sex life. We take care to include in our libido goodie apple, watermelon (good source of L-citrulline, which may help with erectile dysfunction) or strawberries, depending on the season.
Another commonly recommend aphrodisiac, figs are a rich source of vitamins and minerals and a symbol of sexuality as their leaves are used to cover both of Adam and Eve naked bodies in the biblical story. Figs are loaded with antioxidants, flavonoids, fiber and they are a rich source of iron, which will make you feel energised for more exciting activities.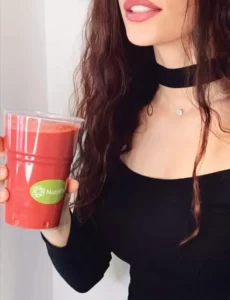 One of the key compounds is the magic combination of maca, yohimbe, horny goat and fenugreek, herbs traditionally used to enhance fertility and sex drive. Fenugreek, especially, contains compounds that your body may use to produce sex hormones, such as estrogen and testosterone.
And that's not all. Our sexy liquid meal hugs a piece of beet for increasing your stamina and  blood flow. The pinky blend is empowered by the delicious flavours of vanilla, chilli, cocoa and coconut flakes, for a complete experience of love. To top everything up, we use pineapple powder, well-known for a wide range of benefits, including fertility.
At Nutrifix, our focus is to help everyone live a healthy, energetic and balanced life, full of love and constant well-being. So, Li Bi Do is our new solution to prevent disorders that affect libido and to support a great sex life. Try it and judge for yourself!